Doua lozuri
(2016)
Two Lottery Tickets
Gen film:
Comedie
Regia:
Paul Negoescu
Actori:
Mircea Banu, Dorian Bogu A, Dragos Bucur, Alexandru Papadopol, Elisa Calin, Ioana Florentina Dimitriu, Elias Ferkin, Codin Maticiuc, Alexandru Victor Nemteanu, Irina Noaptes, Serban Pavlu
Nota IMDB:
n/a (n/a voturi)
Durata: 86 min
Tara: romania
Dinel, Sile și Pompiliu, trei bărbați dintr-un mic orășel de provincie, câștigă marele premiu la loto, însă nu după mult timp biletul nu mai e de găsit, așa că cei trei pornesc într-o călătorie să-l recupereze.
Două lozuri, în regia lui Paul Negoescu ("O lună în Thailanda"), îi are ca protagoniști pe Dragoș Bucur, Dorian Boguță și Alexandru Papadopol, și spune povestea comică a unor oameni disperați care recurg la soluția visată de noi toți atunci când avem nevoie de bani repede și simplu – joacă la Loto 6/49...
Dar nepriceperea le va juca feste, căci, ca să câștigi la loto nu e de ajuns numai să cumperi bilet, și acesta să fie câștigător, ci să și știi să ai grijă de el, să nu-l rătăcești...
Premiera din România are loc pe 7 octombrie 2016.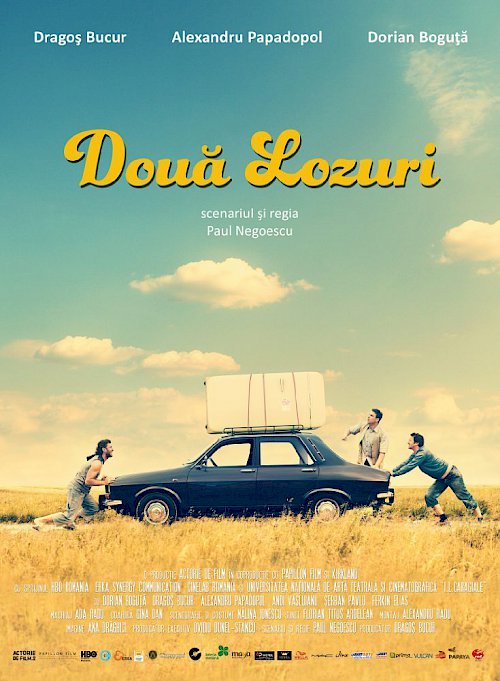 English
3 men from a provincial town who are in an urgent need for money so they decide to buy a lottery ticket. They win the lottery, but very soon, the ticket gets stolen.
Distributie