La drum cu tata
(2016)
That Trip We Took with Dad
Gen film:
Drama, Comedie
Regia:
Anca Miruna Lazarescu
Actori:
Alexandru Margineanu, Razvan Enciu, Ovidiu Schumacher, Susanne Bormann
Nota IMDB:
n/a (n/a voturi)
Durata: 111 min
Tara: romania
Arad, 1968: Frații Mihai și Emil, de origine româno-germană, au un singur lucru în comun: îngrijorarea pe care o simt față de tatăl lor bolnav. Mihai, fratele mai mare, pare să se fi împăcat cu soarta în România ceaușistă, unde este medic și, cu inima îndoită, informator al securității. Emil, însă, luptă cu înfocare împotriva amprentelor staliniste, intrând astfel în situații din care numai prudența fratelui său mai mare îl poate salva. Într-o zi, sosește vestea că tatăl lor poate fi operat la Dresda. Ne aflăm însă în anul 1968, iar ei întâlnesc în calea lor spre destinatie tancurile care aveau să fie implicate în Primăvara de la Praga.

De vreme ce România refuză să se alieze cu Uniunea Sovietică, cei trei ajung într-o tabără temporară în RDG. Din cauza intervenției granița germano-cehoslovacă se închide, iar cei trei nu se mai pot întoarce înapoi în România.

Negăsind o altă soluție pentru apatriere, celor trei li se oferă o viză de tranzit și le este astfel îngăduit accesul în Republica Federală Germană. Complet nepregătita familie trece peste hotare: Întâlnire neașteptată cu dușmanii de clasă - poate această situație să se termine cu bine?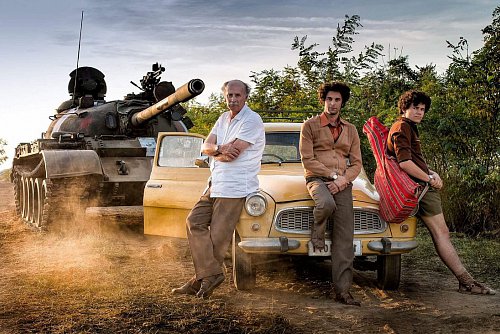 English
Romania, 1968. Two very different brothers. Mihai is a secret police informant, Emil is a dedicated dissident. When they have the opportunity to have their ailing father's eyes operated on in East Germany, the three set out on a moving odyssey.
Distributie