Tomb Raider
(2018)
Tomb Raider Începutul
Gen film:
Actiune, Aventura, Fantezie, Mister
Regia:
Roar Uthaug
Actori:
Alicia Vikander, Walton Goggins, Hannah John Kamen, Dominic West, Daniel Wu, Alexandre Willaume Jantzen
Lara Croft, fiica independentă a unui aventurier foarte excentric ce a dispărut atunci când ea era la vârsta adolescenţei, este o tânără de 21 de ani fără nicio direcție în viață. Lara străbate străzile haotice ale modernei Londre de Est, fiind un curier pe bicicletă ce abia îşi poate plăti chiria.

Este la facultate, dar ajunge foarte rar la cursuri. Hotărâtă să îşi urmeze propria cale, ea refuză să preia frâiele imperiului global al tatălui său, la fel cum refuză cu îndârjire să creadă că el nu mai este. Sfătuită să accepte adevărul şi să meargă mai departe după şapte ani fără el, nici ea nu poate înţelege pe deplin ce o face să îşi dorească atât de mult să desluşească misterul morții tatălui ei.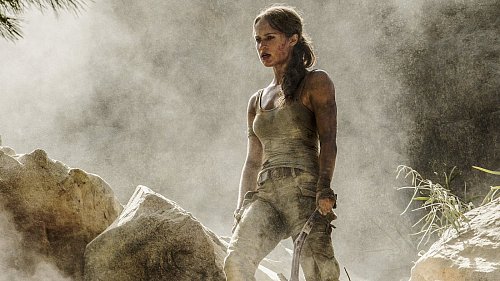 Acţionând împotriva dorinţei finale a tatălui său, Lara lasă totul în urmă şi pleacă către ultima destinaţie în care ştie că s-a aflat acesta: un mormânt de pe o insulă mitică care s-ar putea afla undeva pe coastele Japoniei. Dar misiunea ei nu va fi una prea uşoară, chiar drumul în sine, până la misterioasa destinaţie, este unul foarte nesigur şi periculos.
Dintr-odată miza devine enormă pentru Lara, care - împotriva tuturor previziunilor și înarmată doar cu o minte agilă, credință oarbă și cu un spirit de neclintit - trebuie să învețe să își depășească limitele pe măsură ce înaintează în călătoria necunoscută. Supraviețuirea sa în această aventură periculoasă va însemna și realizarea ei, obţinând astfel supranumele de "tomb raider".
Cea mai recentă poveste din noua serie "Tomb Raider" se va lansa pe marile ecrane în martie 2018 și promite să fie un cocktail amețitor de aventură și mister. actriţa de origine suedeză Alicia Vikander, care o înlocuieşte astfel pe Angelina Jolie în rolul celebrei eroine Lara Croft.

English
Lara Croft, the fiercely independent daughter of a missing adventurer, must push herself beyond her limits when she finds herself on the island where her father disappeared.
Distributie