"Fă tu primul pas", pe scena Teatrului "Matei Vișniec" Suceava
Teatrul Municipal "Matei Vișniec" Suceava vă invită pe 6 aprilie, de la ora 19.00, la spectacolul "Fă tu primul pas", de Jean-Claude Carrière, în regia lui Andrei Munteanu.
"Fă tu primul pas" este o comedie romantică surprinzătoare, plină de farmec şi extrem de vie, despre întâlnirea a doi oameni total diferiţi. Cum ar fi să te trezeşti într-o dimineaţă cu cineva în mijlocul apartamentului tău şi totul să se transforme într-un neaşteptat joc în doi? Refuz, seducţie, fugă, atracţie şi mult umor.
O poveste de iubire care în afara teatrului ar fi putut dura trei luni, trei ani sau poate nu s-ar fi întâmplat niciodată.
Unul dintre cei mai importanţi dramaturgi şi scenarişti francezi ai momentului, câştigător a numeroase premii, printre care Oscar, Bafta, Cesar şi Cannes, Jean-Claude Carrière este autorul a peste 130 de scenarii de film dintre care fac parte Cyrano de Bergerac şi The Unbearable Lightness of Being.
Distribuția spectacolului este asigurată de cunoscuții actori Raluca Aprodu şi Marius Călugăriţa, iar coregrafia este făcută de Galea Bobeicu.
Durata spectacolului este de 1 oră și 20 de minute, iar prețul unui bilet este 30 de lei.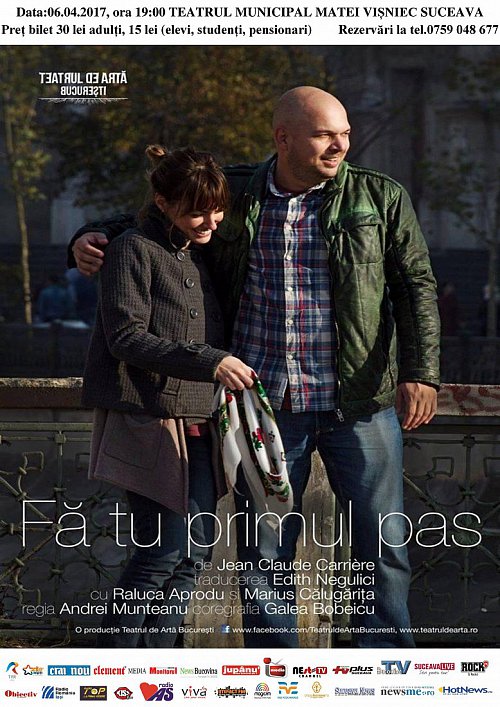 Rezervările se fac la telefon 0759048677.