Soul Serenade & Russell Ramirez canta la Old Times Suceava
Una dintre cele mai premiate trupe din noul val - trio-ul acustic Soul Serenade, dar și celebrul Russell Ramirez - "Îmblânzitorul de trombon" vor fi prezenți la Suceava pe 23 Septembrie 2017, între 20:00 - 22:00, la Restaurantul Old Times Suceava, unde vor susține un concert extraordinar, prin care vor transmite idei și emotii prin muzică, în forma sa cea mai pură.
Evenimentul este organizat de Fundația Eden Suceava.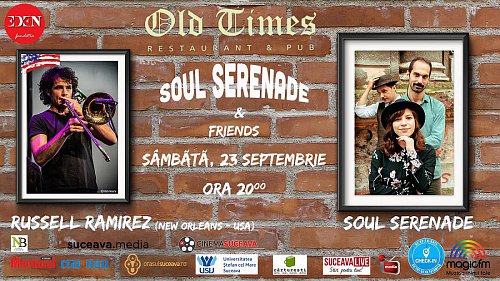 Îmblânzitorul de trombon - RUSSELL RAMIREZ s-a născut în regiunea Tidewater, Virginia, USA, dar la scurtă vreme ai lui au ales ca reşedinţă Carolina de Sud. Pe la 11 ani, alăturându-se unui program muzical al şcolii, alege ca partener de scenă ("musical vehicle") trombonul, fără să ştie că, în urmă cu mulți ani, bunicul său făcuse aceeaşi alegere. Urmează cursurile de jazz ale Universităţii din Carolina de Sud şi pe la începutul anului 2012, înarmat cu preţioasa diplomă, ia drumul New Orleans-ului, unde îşi face un nume pe scena muzicală locală. Devine membru al Cluburilor de Jazz Smoking Time şi Doombalaya, cântă în Trupa The Good for Nothin' şi ia parte la diferite alte proiecte muzicale. Înregistrează un album în duet cu chitaristul Georgi Petrov.
Recent a încheiat un turneu prin Europa cu colegii săi de la The Roaming' Jasmine, trupă care s-a născut, după un bun obicei, pe străzile New Orleans-ului, după care, pentru că nu-i lipseşte umorul, s-a alăturat celor de la Sea Clown Circus, aflaţi într-un circuit prin insulele greceşti.
Când nu se lasă ispitit de trombon, îşi face timp să citească şi să călătorească spre destinaţii inedite sau se relaxează la un joc de table.

EDEN fundația îi propune o aventură muzicală alături de cei de la Soul Serenade, colaborare ce-şi va confirma certificatul de naştere în câteva concerte în Suceava, Rădăuţi, (Iași?) şi Bucureşti. Jazzy-bluesy şi un trombon jucăuş. Dragoste cu năbădăi?!

SOUL SERENADE este o noua si revigoranta interpretare acustica a muzicii "roots" care continua sa exploreze idei, emotii prin cea mai pura forma a muzicii. Trio-ul acustic ofera o combinatie aparte intre chitara slide, voci, mandolina, muzicuta si tamburina care te va purta de pe strazile din Chicago pana pe drumurile prafuite din sud.
In martie 2013, trupa a obținut locul II la Festivalul European de Blues din Toulouse (European Blues Challenge), aceasta fiind si prima participare a Romaniei la acest festival/concurs.

In noiembrie 2013 trupa a fost prezenta in cadrul renumitului festival "Blues Sur Seine" din Franta.Trio-ul bucurestean a fost "opening act" pentru Rhiannon Giddens & Layla Mccalla, castigatoare Grammy, acesta fiind si punctul culminant al festivalului.
Alte festivaluri notabile: "Blues After Work" 2013 (Luxembourgh), "Sofia Blues Meeting"(Sofia), Bulz&Blues 2013 & 2014 (Romania),"CloverFest Muscel" 2013 (Romania), Street Delivery 2013 (Romania).
Componenta:

Adelina Chivu – voce,kazoo, ukulele bass
Andrei Rotariu – voce, chitara, muzicuta si tamburina
Codrut Andrei – mandolina