GAME OF THRONES, cel mai urmărit serial din lume, revine la HBO cu sezonul 7
Premiera celui de-al 7-lea sezon al serialului fantasy de mare succes Game of Thrones are loc luni, 17 iulie, de la ora 20:00, pe postul HBO şi pe platforma online de filme, HBO GO.
GAME OF THRONES SEZONUL 7 este compus din doar șapte episoade şi va fi urmat de sezonul 8, ultimul. Acesta va avea șase episoade.
Primul episod are 59 de minute, iar capitolul final al acestui sezon va avea 81 de minute.

Nikolaj Coster-Waldau, care îl joacă pe Jaime Lannister, a declarat pentru Entertainment Weekly: "Totul se petrecere cu o viteză mai mare decât sunt obişnuit...multe lucruri care în mod normal ar fi luat un sezon să se întâmple, se vor petrece acum într-un singur episod."
Emilia Clarke, actriţa care joacă rolul Khaleesi promite un sezon palpitant, din care nu lipsesc surprizele, lămurirea unor afaceri neterminate şi bătăliile epice.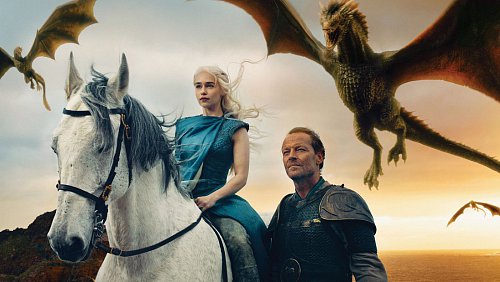 Cele mai multe teorii susțin că intriga principală va fi războiul pe care Danerys Targaryen îl va duce pentru recâștigarea Tronului de Fier. O altă intrigă va fi Marele Război cu Umblătorii Albi.

"Game of Thrones" este seria cea mai longevivă, produsă şi difuzată de HBO. Al şaselea sezon a avut o medie de 25 de milioane de telespectatori, ceea ce l-a făcut cel mai vizionat serial difuzat de către postul tv.
Serialul "Urzeala tronurilor", premiat cu Emmy şi bazat pe romanele lui George R. R. Martin, a fost cel mai piratat serial de televiziune din anul 2015, cu aproximativ 14,4 milioane de downloadări ilegale, conform variety.com.
Dacă episodul final din al cincilea sezon al serialului "Urzeala tronurilor" a generat cea mai mare audienţă din istoria acestui show TV, cu o medie de 8,11 milioane de telespectatori, în SUA, premiera sezonului VI pe HBO a fost privită nu mai puţin de 10.7 milioane de telespectatori.