Moartea este inamicul - Episodul 6 din sezonul 7 al Game of Thrones se anunță a fi teribil - Video
"Moartea este inamicul. Primul şi ultimul inamic. Inamicul învinge întotdeauna. Dar tot trebuie să ne luptăm cu el" spune Beric Dondarrion către Jon Snow atunci când echipa de șoc pleacă să vâneze Umblătorii albi - monștrii de gheață ce bântuie tărâmurile de dincolo de Marele Zid.
Lupte aprige cu inamicii de gheață - morții vii, multe scene de acțiune și prezența înfiorătorului Rege al Nopții completează scenele care ni se arată în trailerul episodului 6 (penultimul) din sezonul 7 al celebrei serii Game of Thrones - Urzeala Tronurilor, produsă de HBO după cărțile renumitului scriitor George RR Martin.
Iar asta nu e tot, pentru că, din imagini se vede că numai cinci oameni mai aleargă către Marele Zid, fugariti de armata mortilor vii.
Cine scapă și cine moare?
Să fie aici capăt de drum pentru Câine, sau va ajunge să se confrunte cu fratele său, Muntele, un altfel de zombie?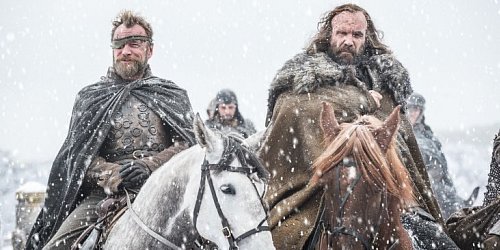 "Death is the enemy. The first enemy and the last. The enemy always win. And we still need to fight it" - Beric Dondarrion