Rockstadt Extreme Fest - patru zile de muzică extremă în Cetatea Râșnovului
Editia cu numarul 5 a festivalului Rockstadt Extreme Fest, o editie aniversara, care va avea loc in perioada 10-13 august 2017, de joi pana duminica, isi propune sa fie si cea mai grandioasa de pana acum.
Timp de 4 zile, zeci de formatii internationale vor concerta pe Terenul de Biatlon de la baza cetatii Rasnov in cadrul celui mai iubit si apreciat festival de muzica extrema din Romania.
Opeth, Carcass, Kreator, Annihilator, Korpiklaani, Alestorm, Solstafir, Arcturus, Napalm Death, Nile, August Burns Red, Suffocation, Leprous, Fit For An Autopsy, Wolfheart, White Walls (Mad Man Circus Set), Altar, Diabolical, Napoleon, Jucifer, Last Hope, Give Em Blood, Indian Fall, Chronosphere, Diamonds Are Forever, For The Wicked, IXXI, Anime Torment, Zombie Attach, Clitgore, Necrovile, L.O.S.T., Teethgrinder, Taine, Grimegod (Anniversary Set), Allochiria, The Thirteenth Sun, Thread Of Omen, Kultika, Blacksheep, Angrepp, Till Lungs Collapse, Hypnosis Fire Show, Cirmena, Aflmsmp, Them Frequencies, An Theos, Grimaze, Seventh Genocide, Terravore, Exact Division, Still Falling.
La fel ca si precedentele editii, NU vor exista bilete pe zile, ci doar abonamente ce asigura accesul in toate cele patru zile ale festivalului.
Organizatorii promit ca pentru editia din 2017 vom avea un festival cu adevarat grandios, lucru posibil doar multumita sustinerii venite din partea publicului in toti acesti patru ani.
Ca o noutate pentru acest an, categoria VIP a fost eliminata. In schimb, sesiunile de Meet And Greet vor fi din acest moment publice, in limita timpului impus de managementul formatiilor.
Rockstadt Extreme Fest 2017 va avea loc in perioada 10-13 august pe terenul de Biatlon de la baza Cetatii Rasnov.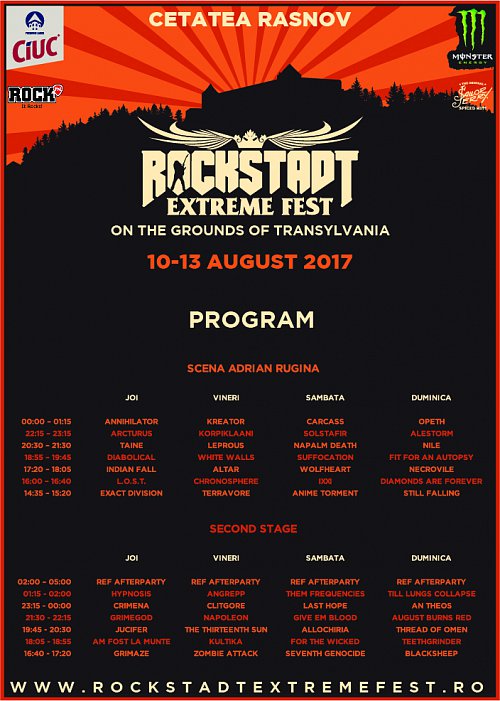 Abonamentele sunt disponibile in retea nationala si internationala, lista pentru etapele de presale pana in august 2017 fiind disponibila mai jos.
270 lei = 2.02 - 09.07.2017
300 lei = 10.07.2017 si pe toata durata festivalului

Biletele pot fi gasite pe site-ul oficial, www.rockstadtextremefest.ro cat si in punctele de vanzare deja cunoscute: reteaua de bilete Eventim, MyTicket si Bilete.ro. Pentru achizitia in sistem international, biletele pot fi achizitionate de pe pagina oficiala a festivalului.