Luna femeii, marcată la Iulius Mall Suceava cu 100 premii zilnice și o sesiune de shopping în valoare de 1.000 de euro
Începe luna în care fiecare femeie primește mai multă atenție de la cei din jur, de la partener, de la copil sau de la colegi, iar 8 martie este un moment potrivit pentru a aprecia și mai mult femeile de pretutindeni.
Iulius Mall te sărbătorește cu recompense la fel de speciale ca tine. La începutul lunii martie, primește cadouri unice, participă la campania ,,It`s your time to shine!" și intră în cursa pentru marele premiu - o sesiune de shopping în valoare de 1.000 de euro!
În perioada 1 – 8 martie, cumpărăturile din Iulius Mall îți aduc șansa unor premii de care să te bucuri. Dacă faci cumpărături de minimum 400 lei, pe un bon fiscal sau pe maximum 3 bonuri fiscale cumulate (din magazine diferite), poți câștiga unul dintre cele 100 premii zilnice. Iulius Mall te așteaptă cu vouchere de la Cărturești, Secom, The Makeup Shop, my Geisha sau Goody's Burger House, precum și cu multe alte surprize. Nu rata șansa de a intra în cursa pentru marele premiu! Prin tragere la sorți, poți câștiga o sesiune de shopping în valoare de 1.000 euro. Tragerea la sorți va avea loc joi, 9 martie. Pentru mai multe detalii, îți punem la dispoziție regulamentul campaniei aici.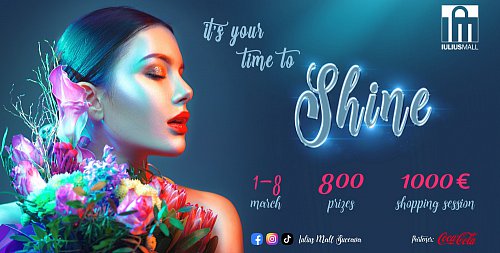 Vrei să faci și mai frumoasă această zi specială?
Pe lângă darurile clasice de Ziua Femeii, cum sunt florile, ciocolata și bijuteriile, vei găsi la Iulius Mall o varietate de opțiuni din care să alegi, mai ales că martie vine, ca în fiecare an, cu dovezi ale măiestriei artizanilor talentați. Indiferent care îți sunt preferințele, oferta de shopping de la Iulius Mall Suceava te asigură de faptul că amintirea ta rămâne vie.